Behind the Scenes of the Mungāru Gallery Chair Designed by INODA+SVEJE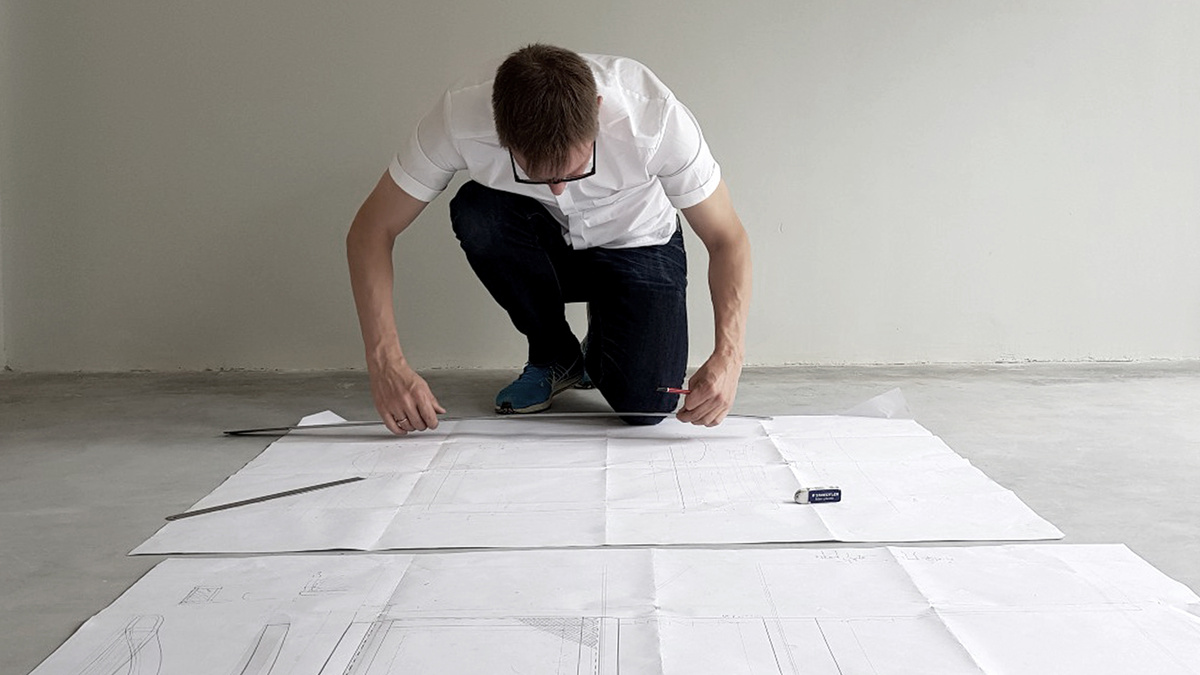 Image caption: Nils Sveje of INODA+SVEJE working at Phantom Hands studio in Bangalore.
A journal on the making of the Muṅgāru Gallery Chair and the process that went into Phantom Hands' first collaborative project with designers INODA+SVEJE.
Carrying Forward a Design Legacy
Three years ago, we started re-editing furniture created for Chandigarh in the 1950s as a way of keeping alive a design legacy that literally gave birth to Indian modernism.
We believe that to truly carry forward a design legacy, it is equally important to create new pieces that speak the same language and follow the same 'philosophy of making'.
Contemporary designers continue to create beautiful chairs that pay homage to the glorious years of Scandinavian mid-century modern design. We wanted to do the same for Indian modernism.
I first came across the DC10 and DC09 chairs designed by INODA+SVEJE in 2016, in a furniture store in Belgium. I remember thinking that these are the most beautiful chairs I've seen in a long time - simple and minimal, yet quite complex in their construction. I looked up the pieces they had created in collaboration with Miyazaki chair factory and became fascinated with their work.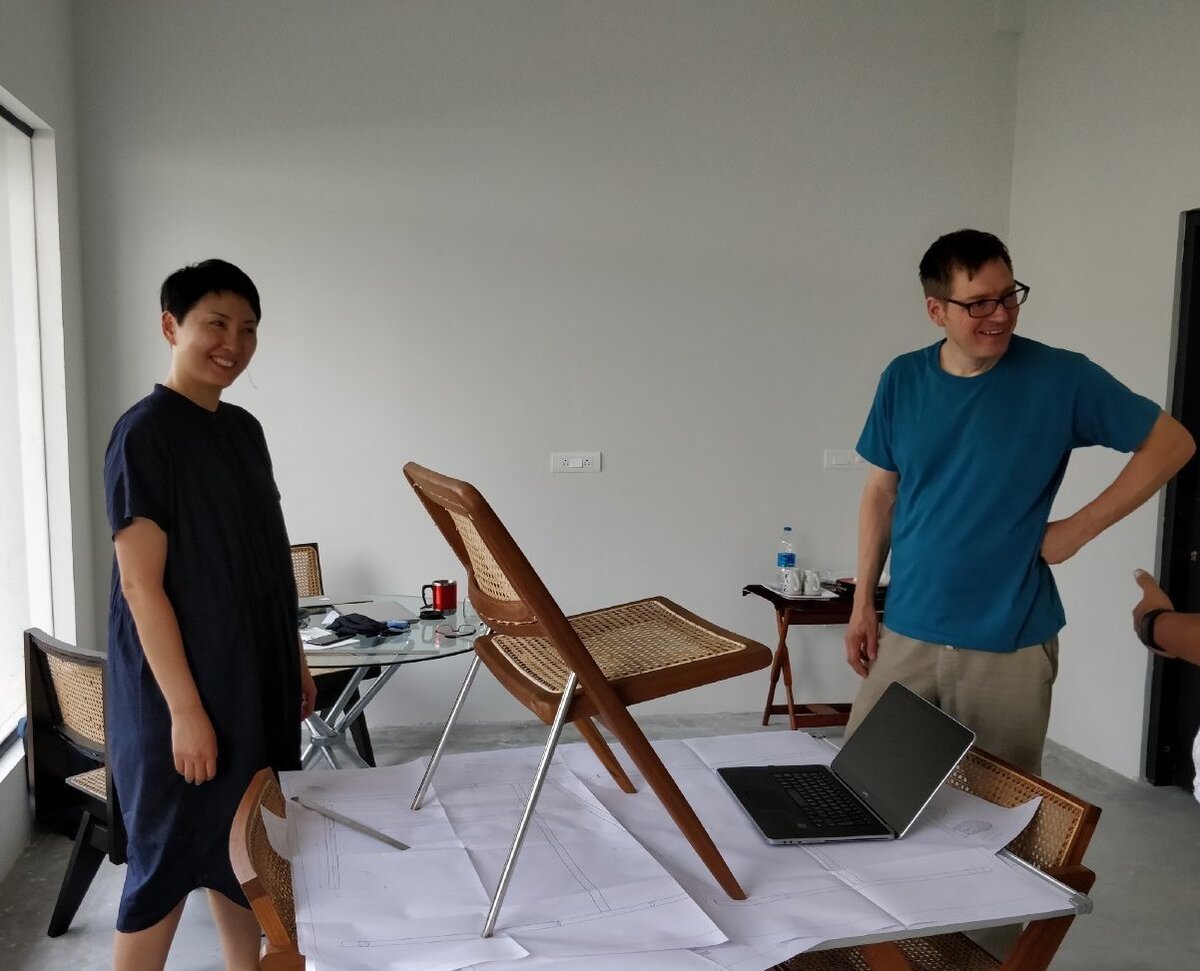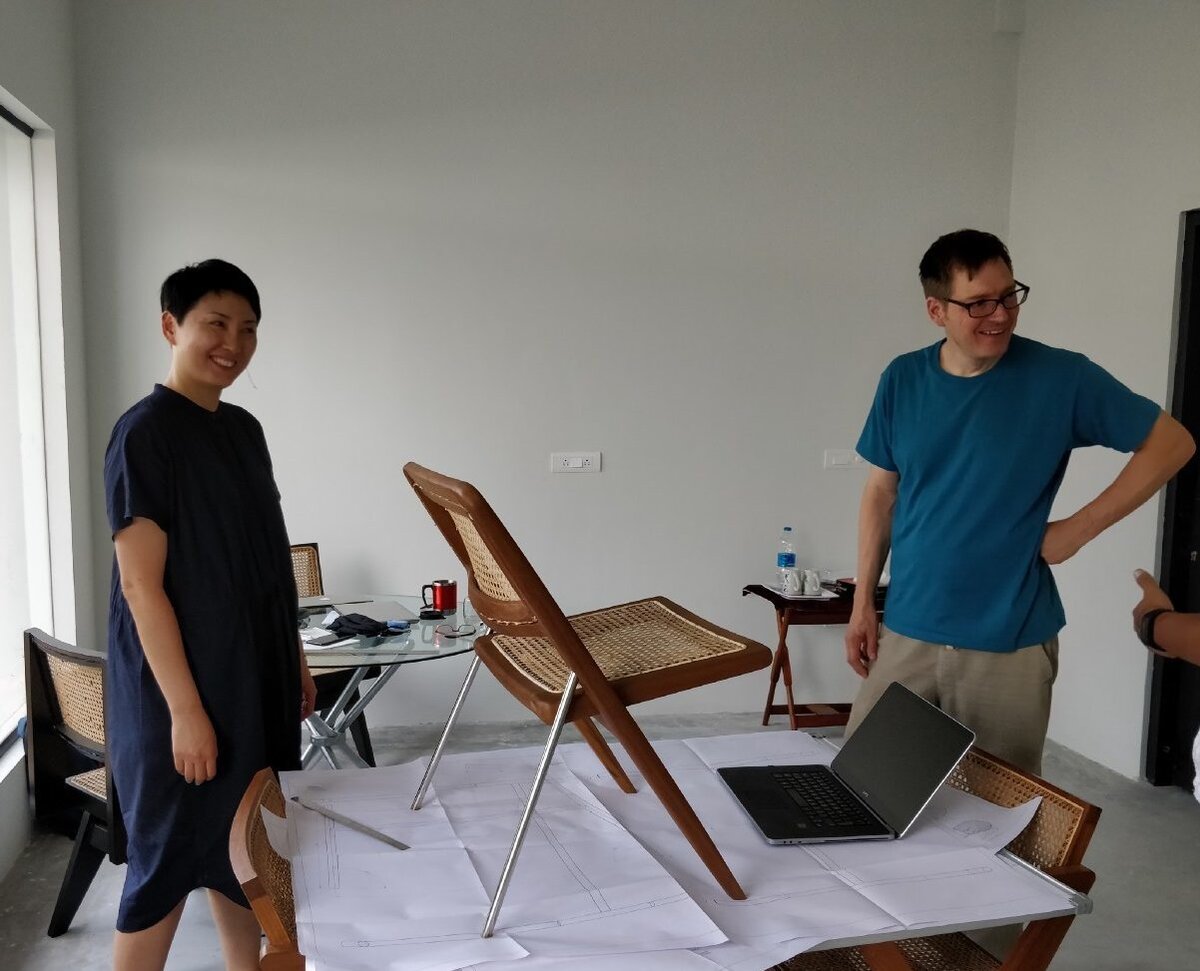 Not Nostalgic, But Inspired
I contacted them on Instagram (a sign of the times we live in!) and immediately got a reply from Kyoko Inoda (Nils Sveje is the other half of this Milan-based Japanese-Danish design duo).
Soon after, in September 2016, I made a trip to Milan and met them in their studio to explore the idea of creating a collection with us. My brief was that the collection should be inspired by the legacy of Chandigarh furniture designed by Pierre Jeanneret and others, but must not be too nostalgic or overly derivative. We should be able to produce the designs by hand, exactly as we do for the Chandigarh re-editions. Kyoko and Nils loved the idea and immediately agreed.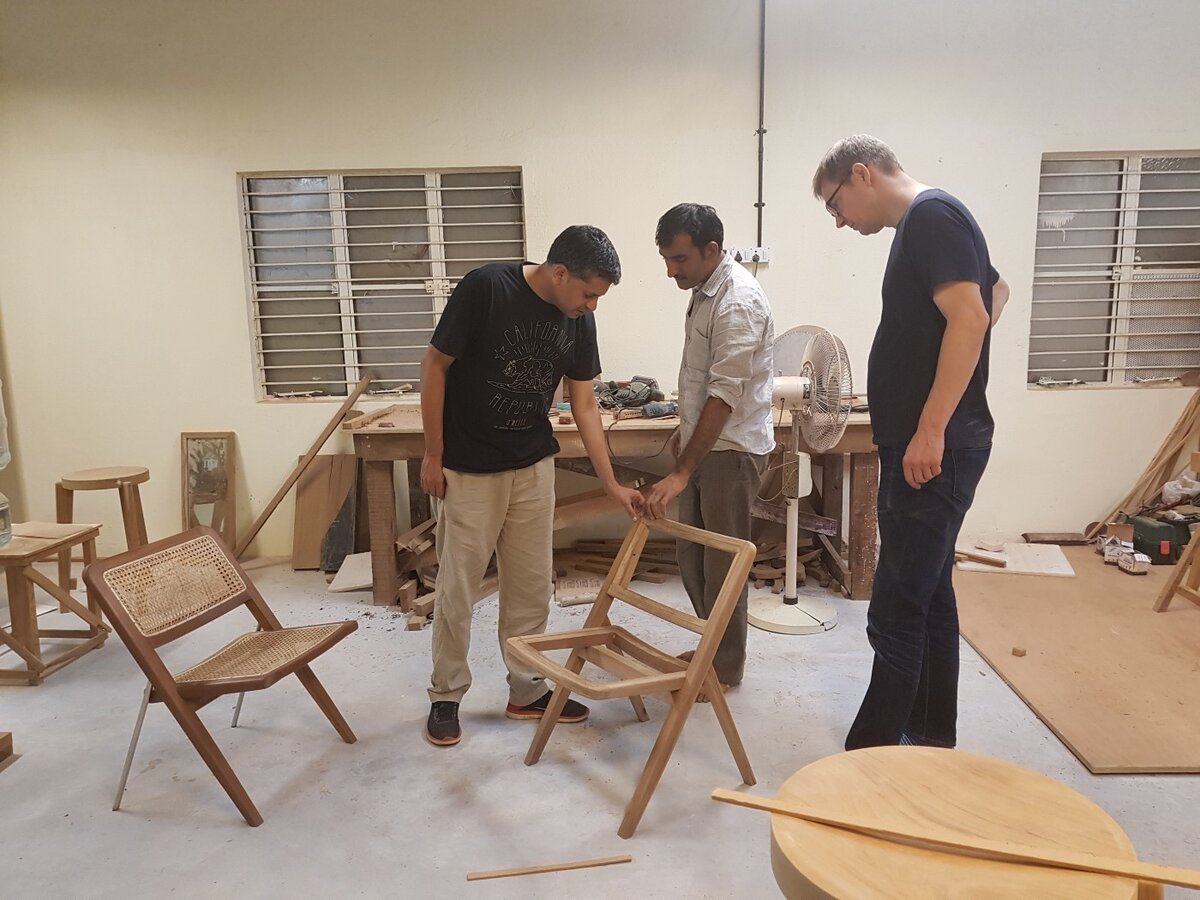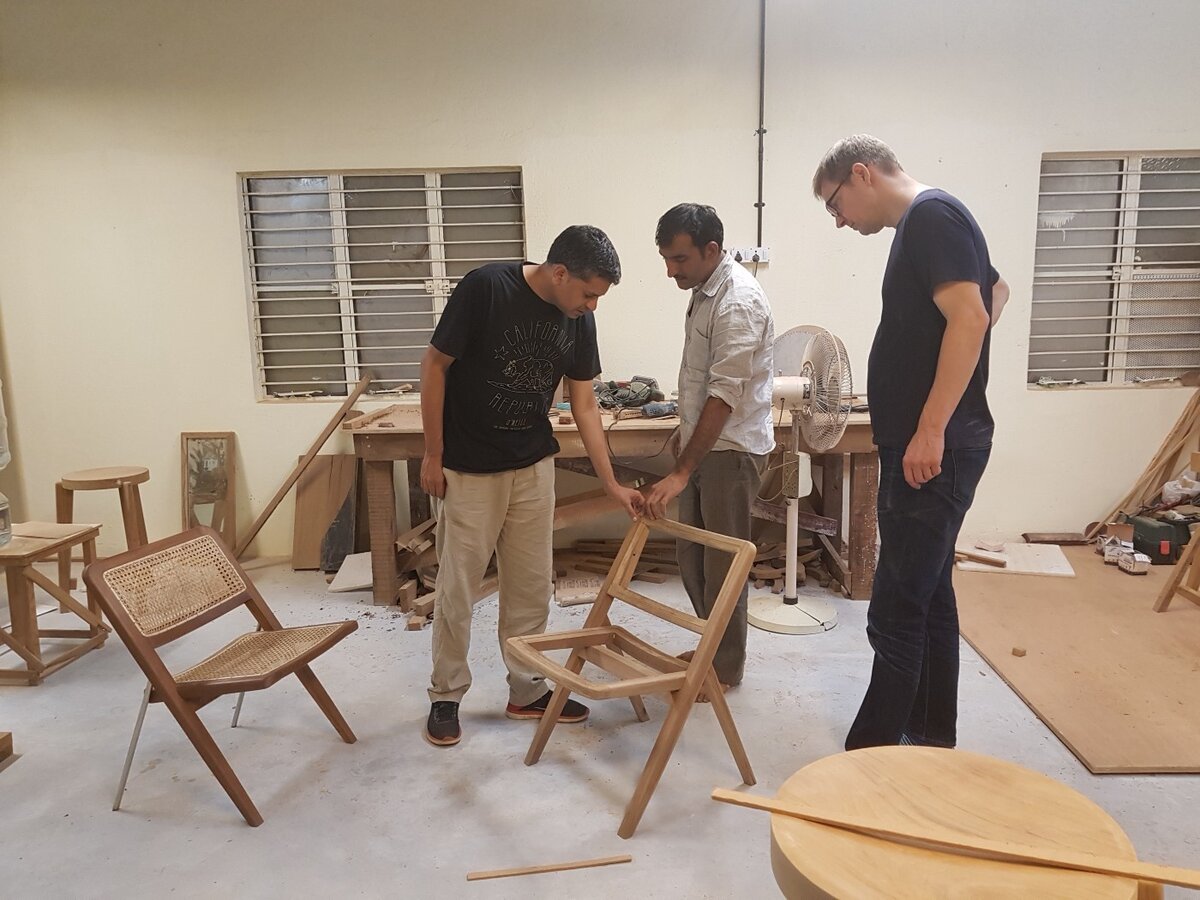 Hands-On Collaboration
Over the next few months, INODA+SVEJE worked on concepts for the new collection. They came down to our workshop in Bangalore in July 2017 and spent a few weeks understanding how our artisans work and their skills. They adapted their design and prototyping process to the 'Indian way' — a hands-on collaboration and constant feedback loop between designers and artisans.
We challenged ourselves to push the limits of hand craftsmanship — to what extent could organic shapes and curves could be created by hand-held tools? Would it be feasible to produce the chair by hand in reasonable quantities when it went into production? Moreover, no CNC machine was to be used in the making of these chairs.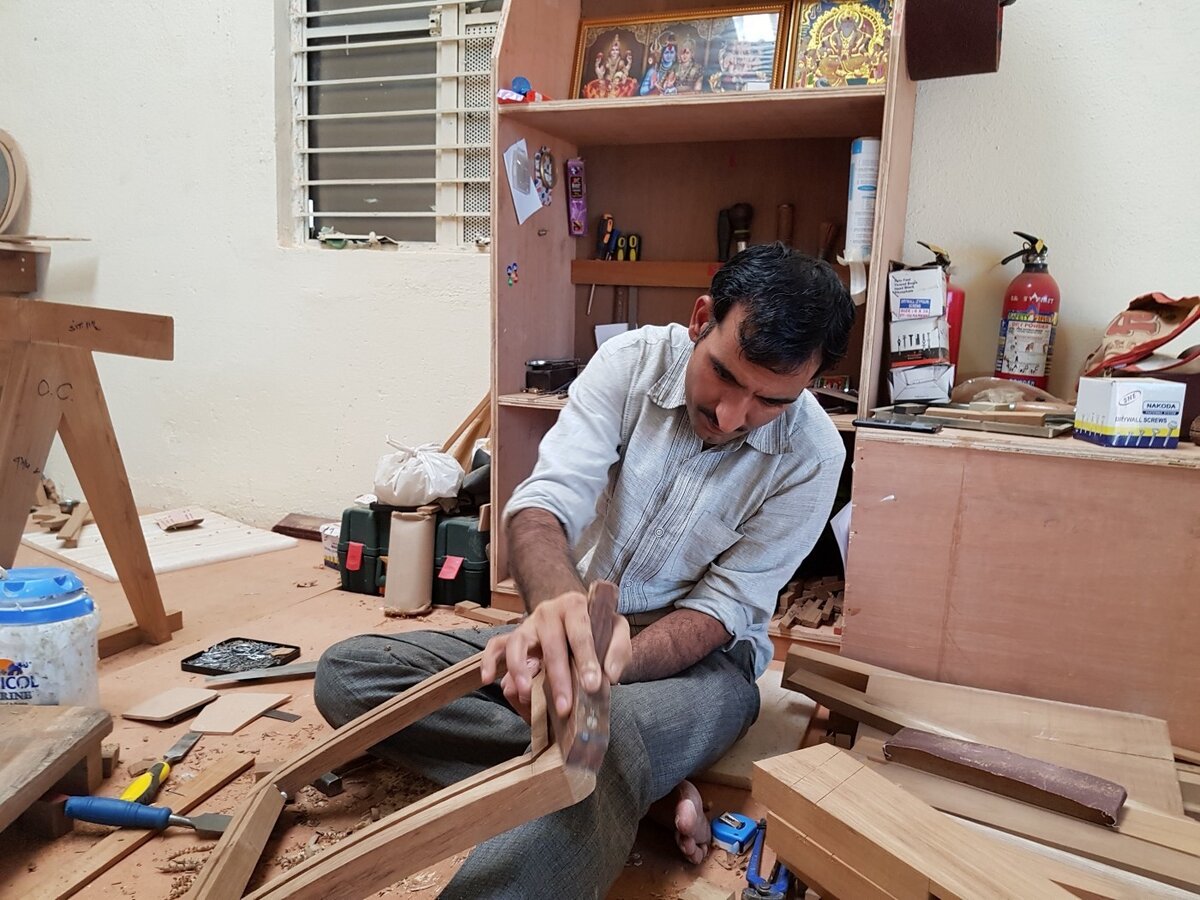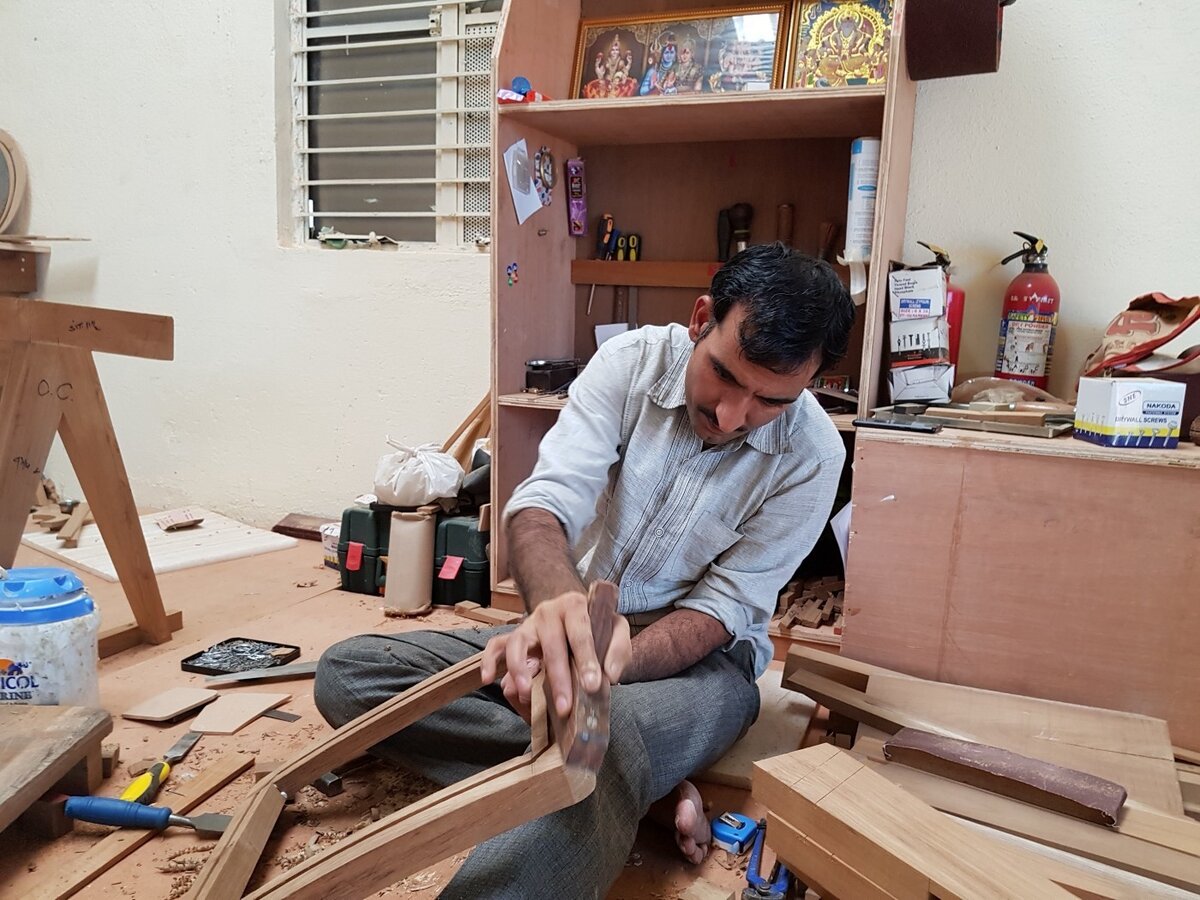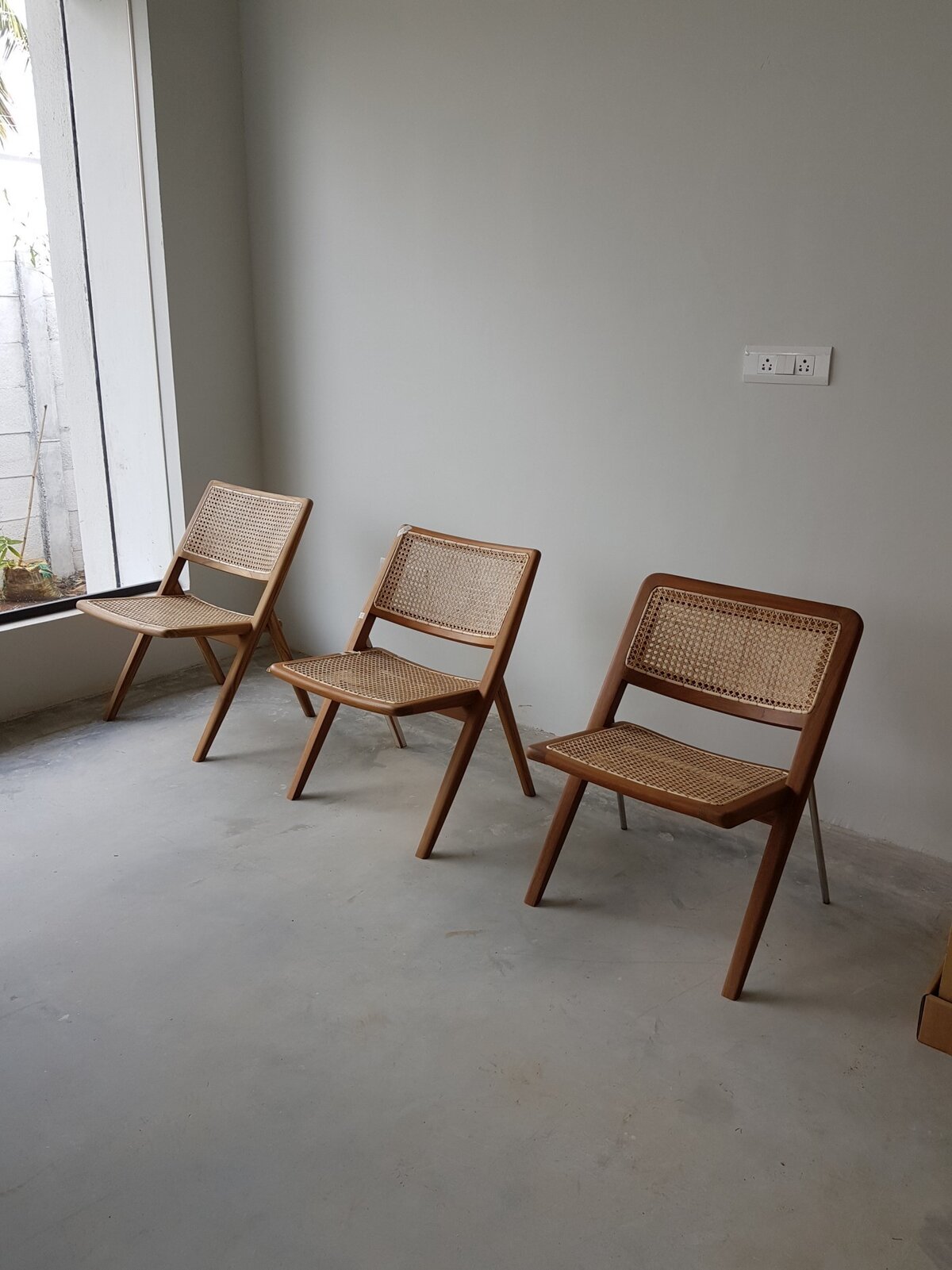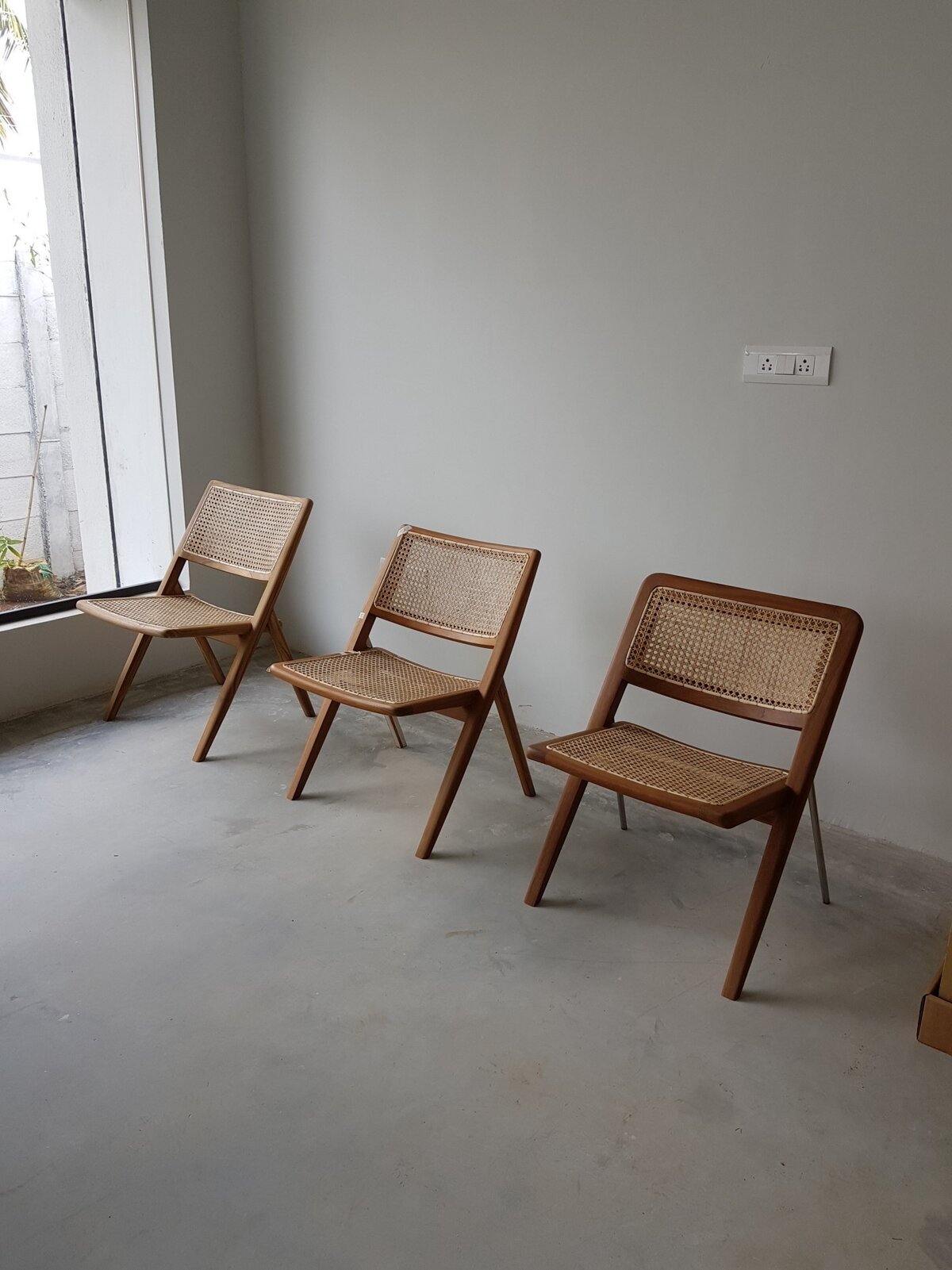 Minimal and Modern
Out of this process, the Muṅgāru Gallery Chair emerged as the first production ready chair of our collaboration.
Minimal, modern, organic and completely handmade! Muṅgāru is a Kannada word (local language spoken in Bangalore) used to describe the gentle, rejuvenating, and life giving pre-monsoon rains.
Kyoko and Nils designed and prototyped the chair in our workshop as the monsoon set in and the name felt apt for the chair.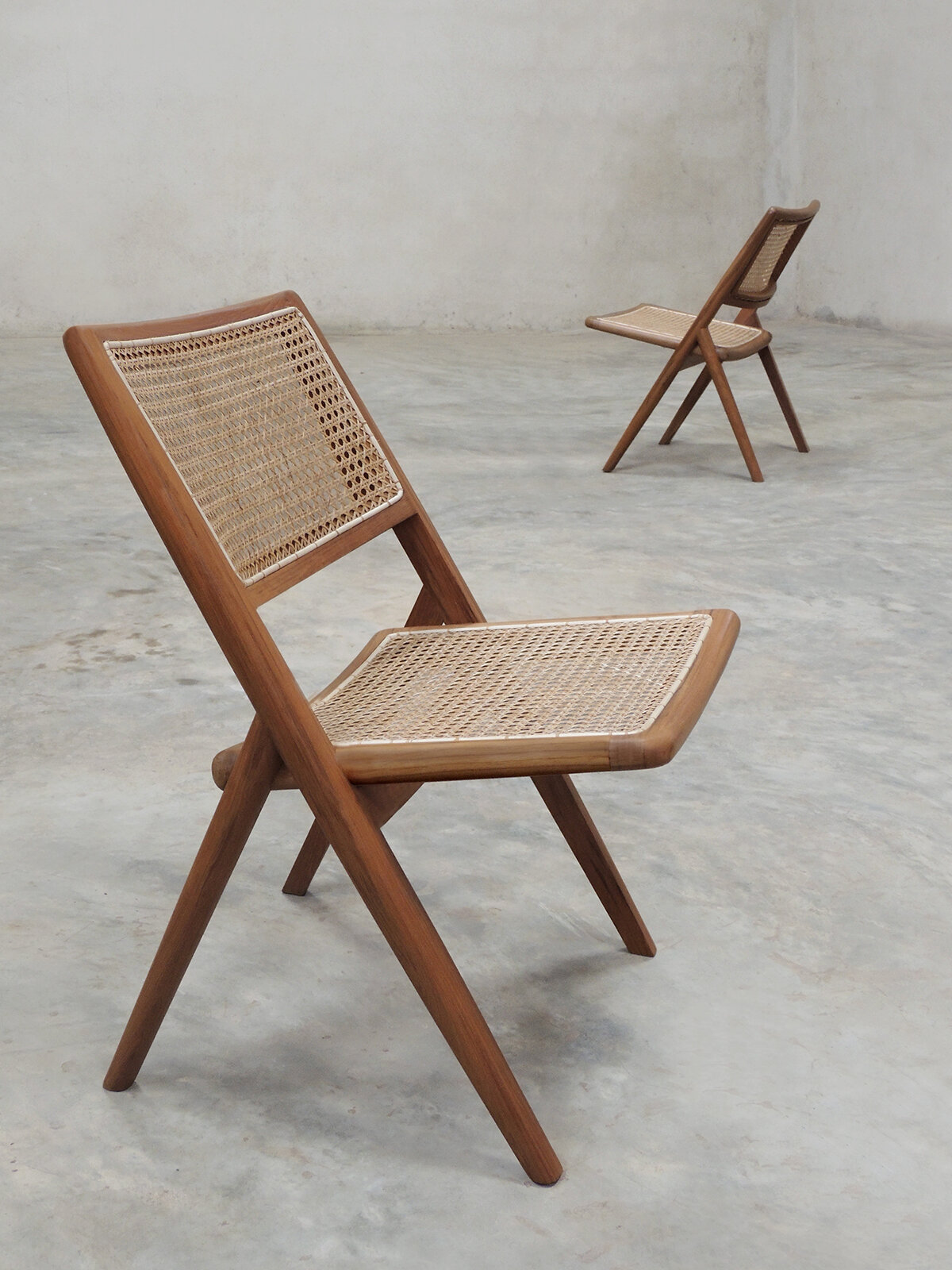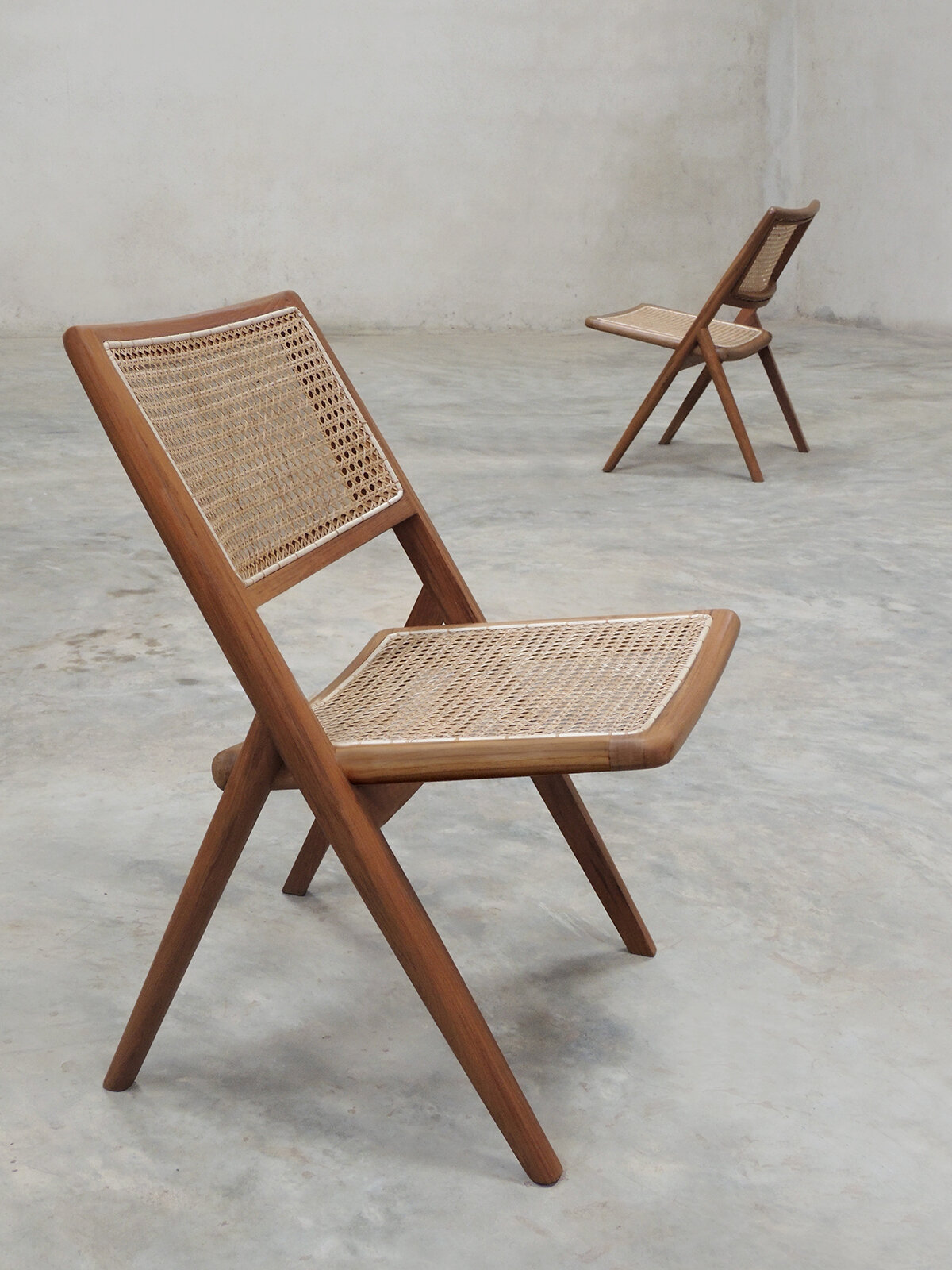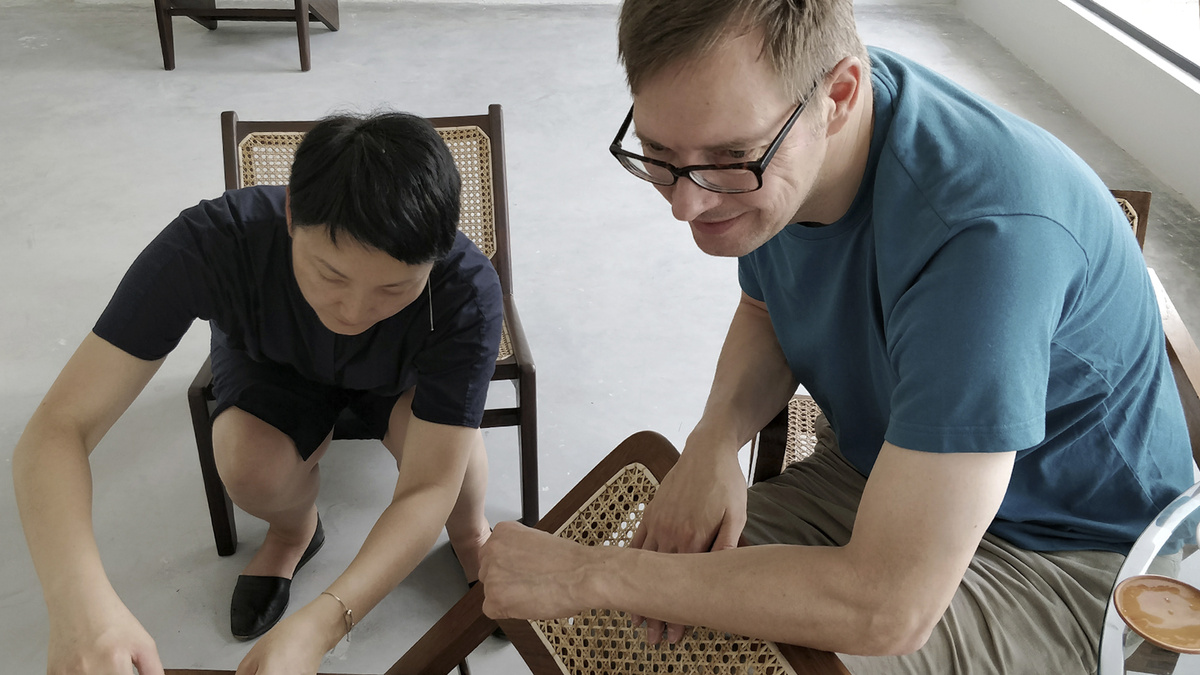 In Conversation With Design Studio INODA+SVEJE: Designing Without Straight Lines
Milan-based design duo Kyoko Inoda and Nils Sveje have spent the last two decades working with artisanal products alongside nanotechnology and mechatronics. They are also one of Phantom Hands' design collaborators.
Read Journal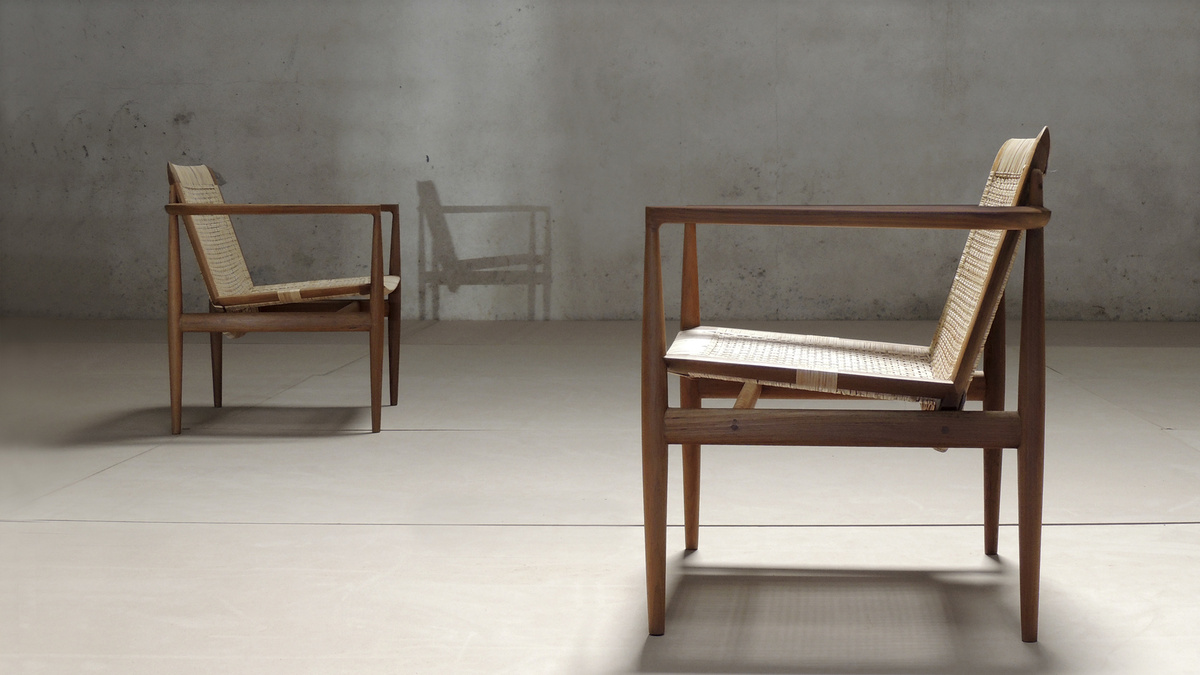 Behind the Scenes of the Tangāli Collection Designed by INODA+SVEJE
Designed by INODA+SVEJE, the Tangāli collection was developed over a period of nearly two years and has a distinctive cane weave pattern as its signature design element. A look behind the scenes.
Read Journal