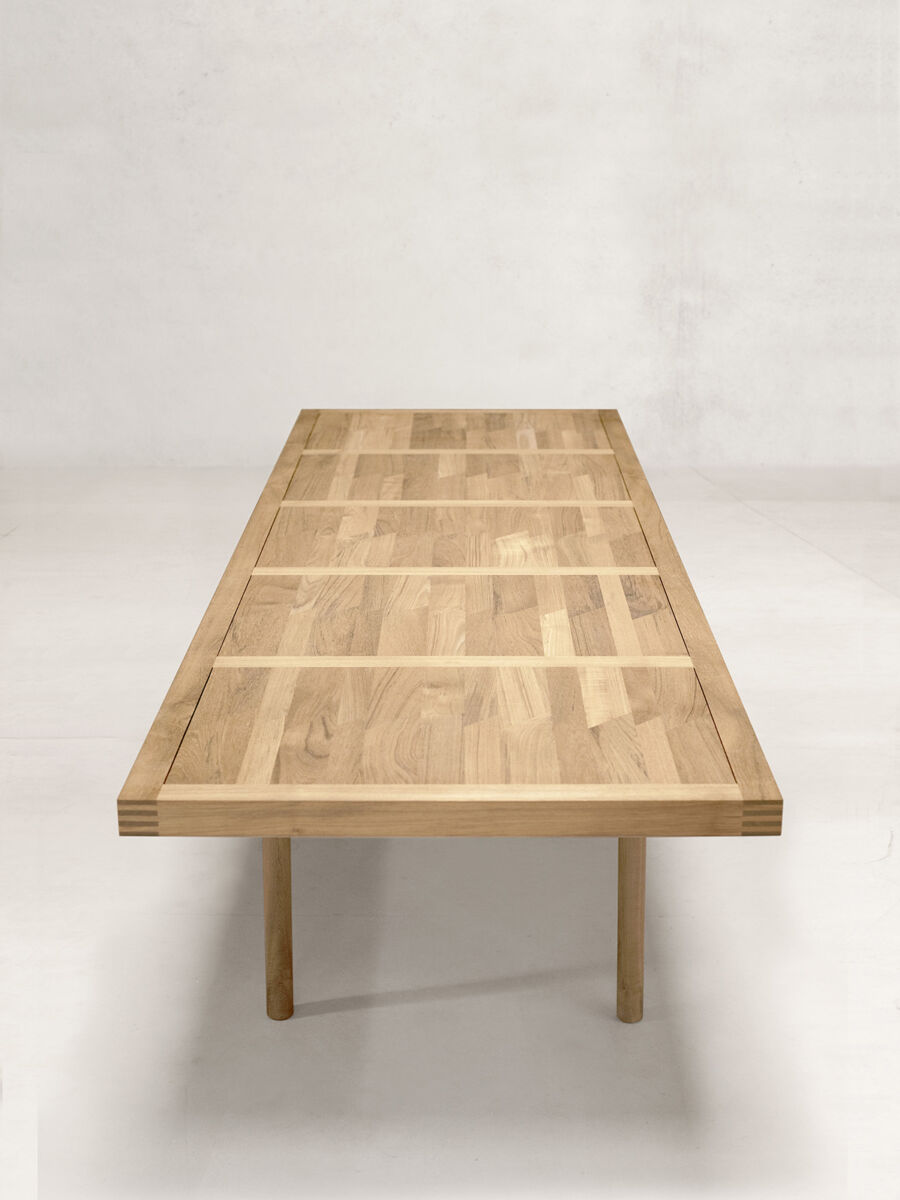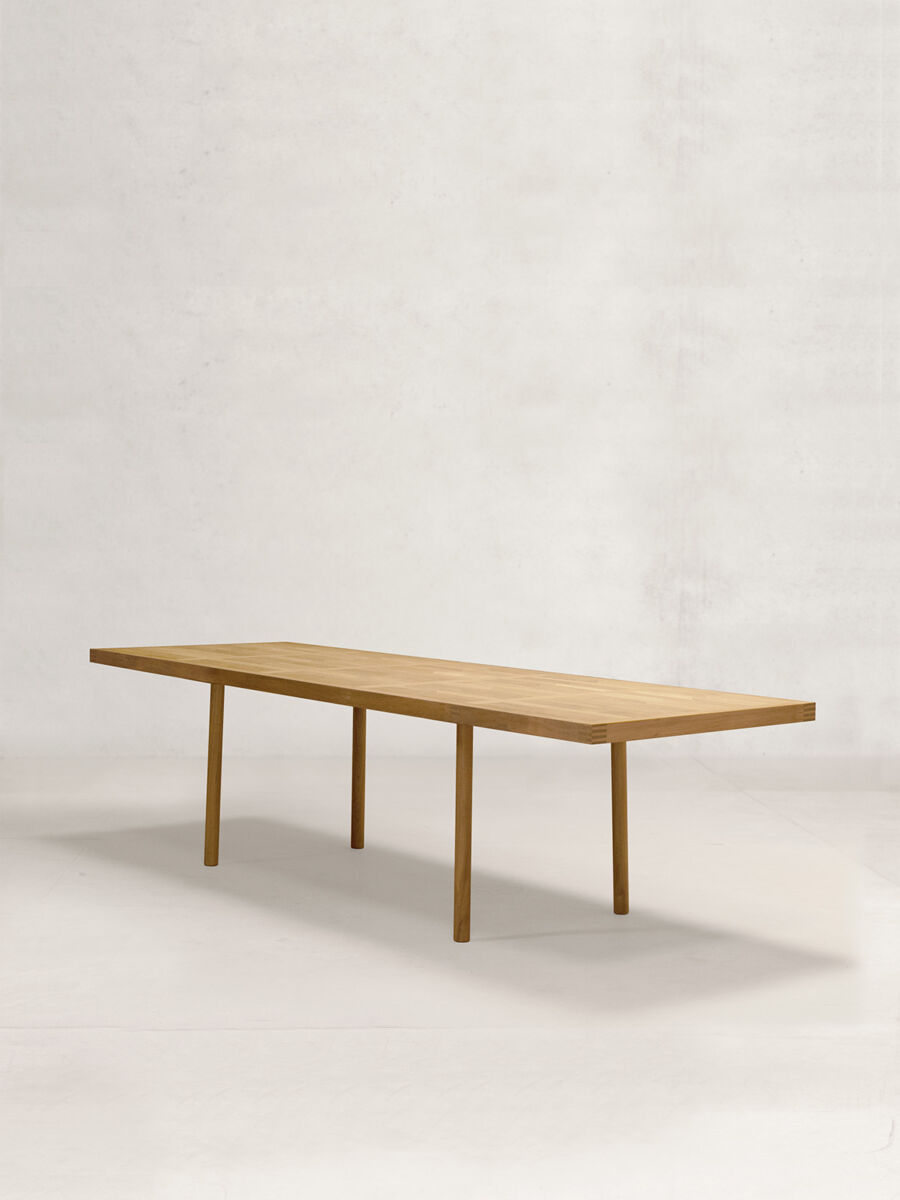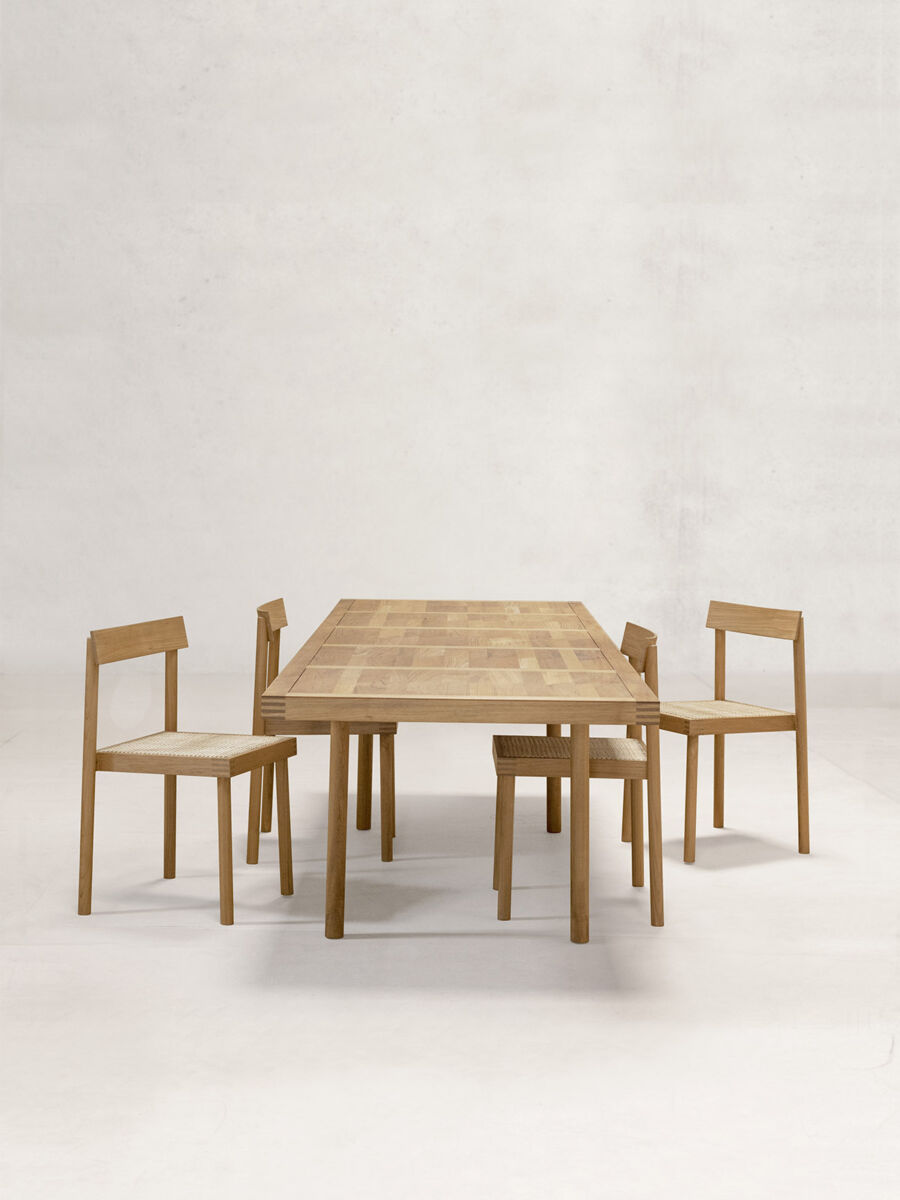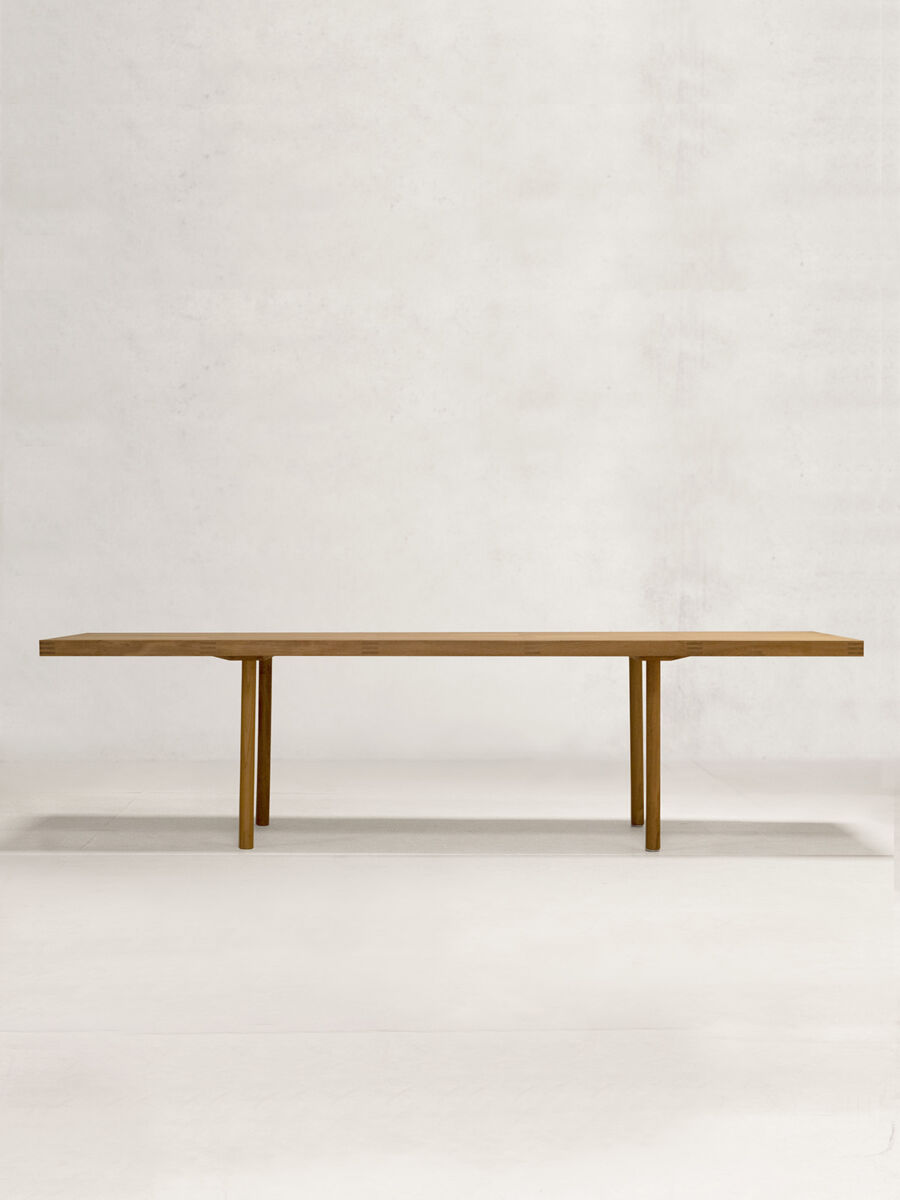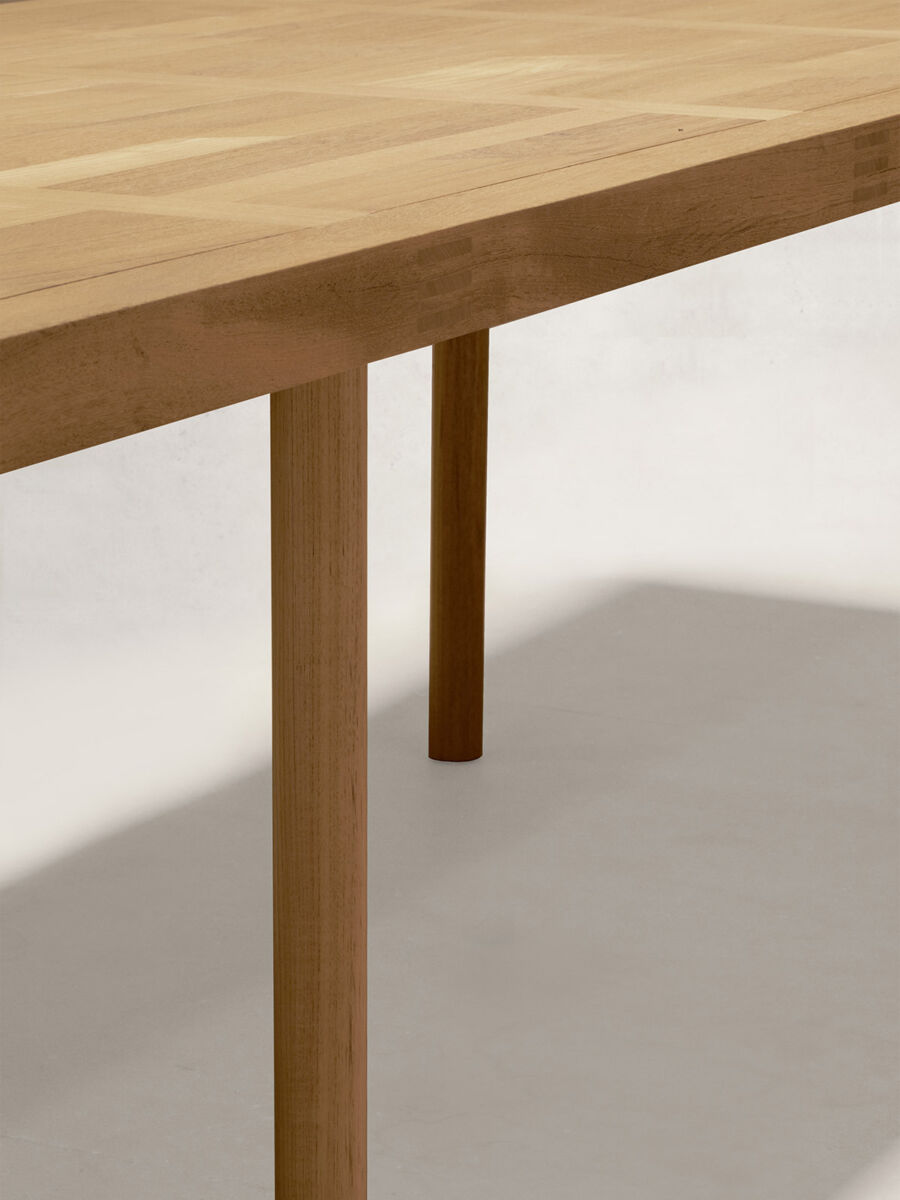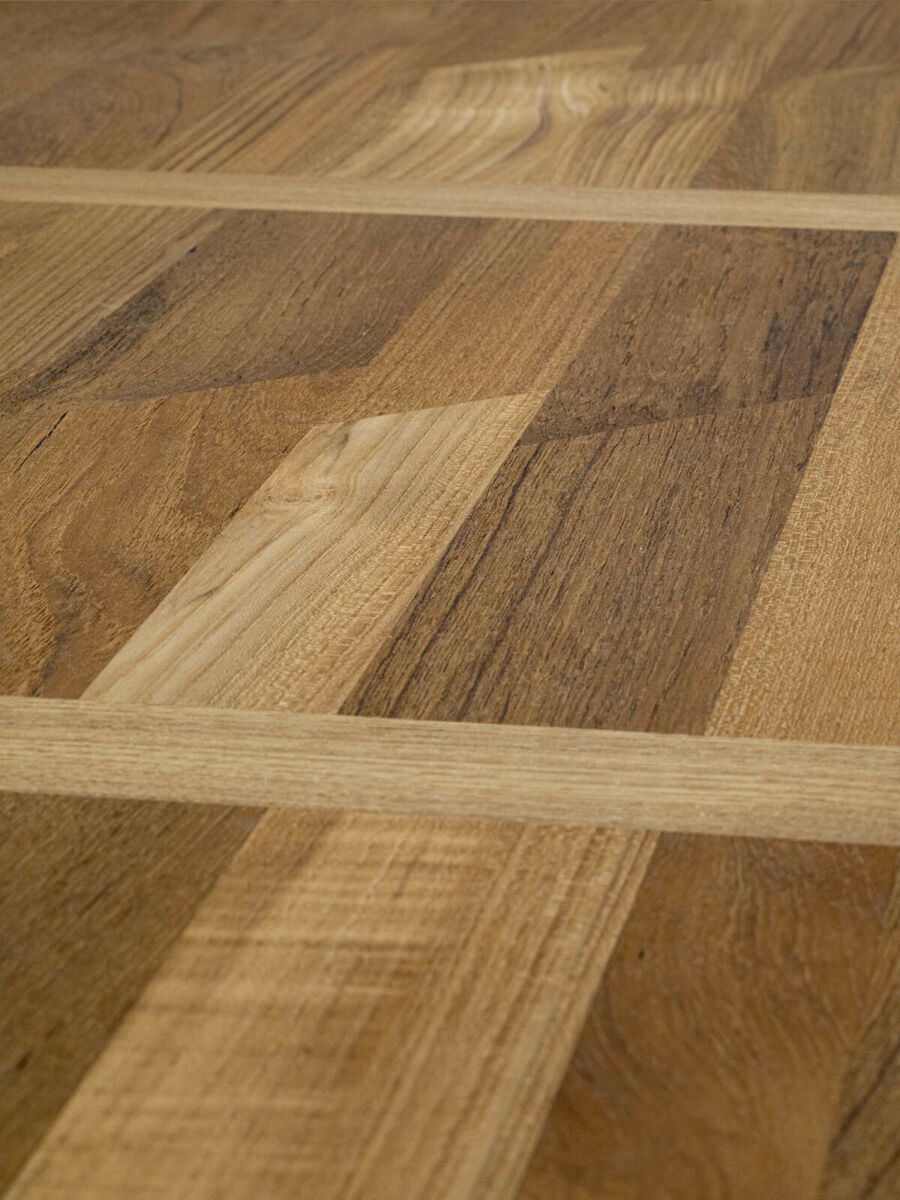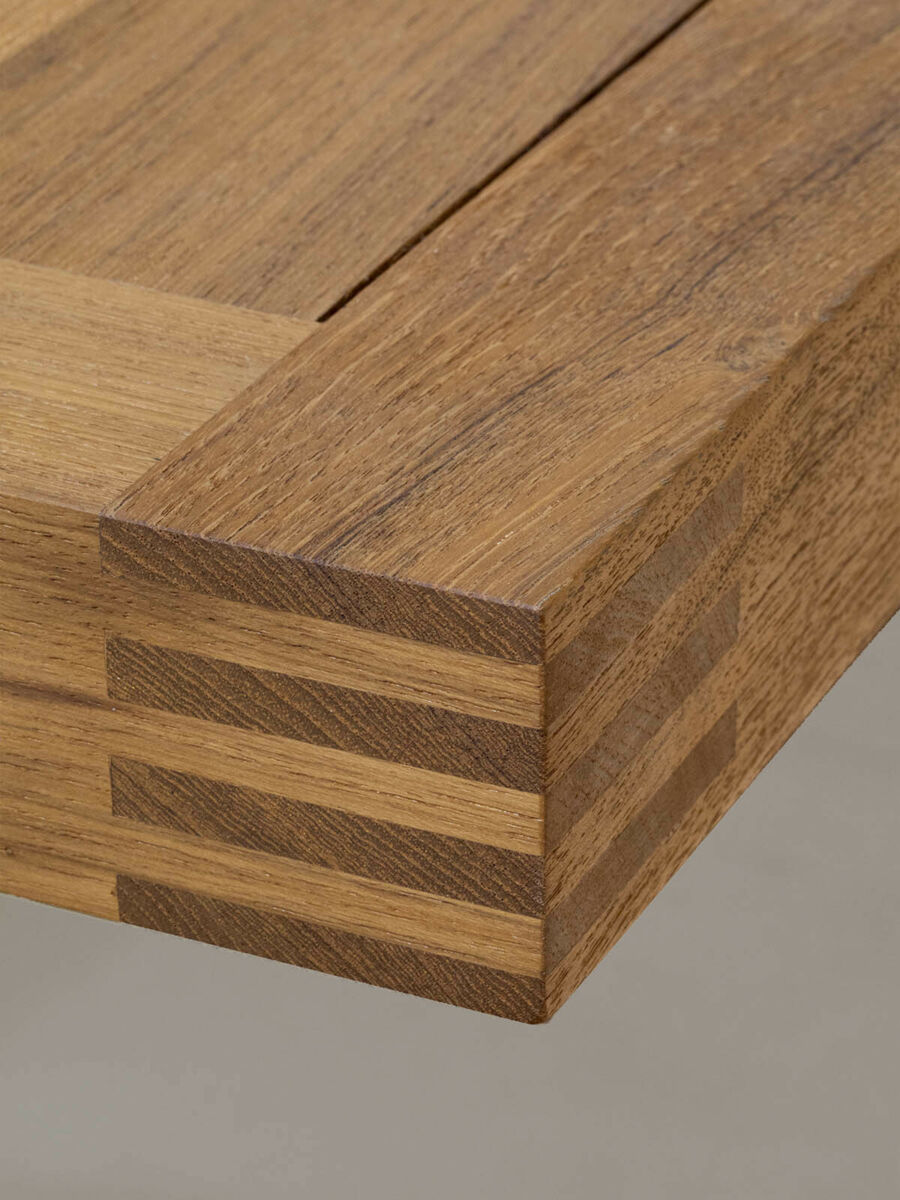 Product Description
Every production cycle at the Phantom Hands workshop leaves us with piles of small, uneven, seemingly unusable pieces of wood. In an effort to reduce waste and utilise this precious wood, we encourage our design collaborators to incorporate this leftover wood into their product design. The Nandi dining table is a result of such an attempt to render woodshop debris functional.
This is a classic dining table with a large top composed of an arrangement of wooden pieces of different sizes. Collected from our workshop, each piece of wood is individually shaped and hand polished. Pieced together, they lend the top a geometric texture or graphic inlay pattern that is unique to each table.
Divided into three detachable parts, the top fits into a frame with slots. The cylindrical legs of the table are also screwed onto the frame. There is a deliberate narrow gap between the geometric table top and the frame all around, to allow for the natural seasonal expansion and contraction of wood. The table, which comes flat packed, is easy to dismantle, transport, and set up.
The Nandi Dining Table comes with its own set of simply constructed lightweight stackable chairs with cane seating. Although it typically seats six, the table can comfortably accommodate up to eight.

All products of the Nandi collection come with special feet pads that have been customised as per the shape and size of each leg. They felt pads are inserted into a groove at the bottom of the leg to improve their durability and to make them less visible.

Product Specification
Standard dimensions
H 28.8 / D 35.5 / L 110.3 /
H 73.0 / D 90.0 / L 280.0 /
Materials
Teak (Tectona grandis)
Product variants
6 seater -

H 27.6 / D 35.5 / L 88.6 /

H 70.0 / D 90.0 / L 225.0 /
Download technical sheet

●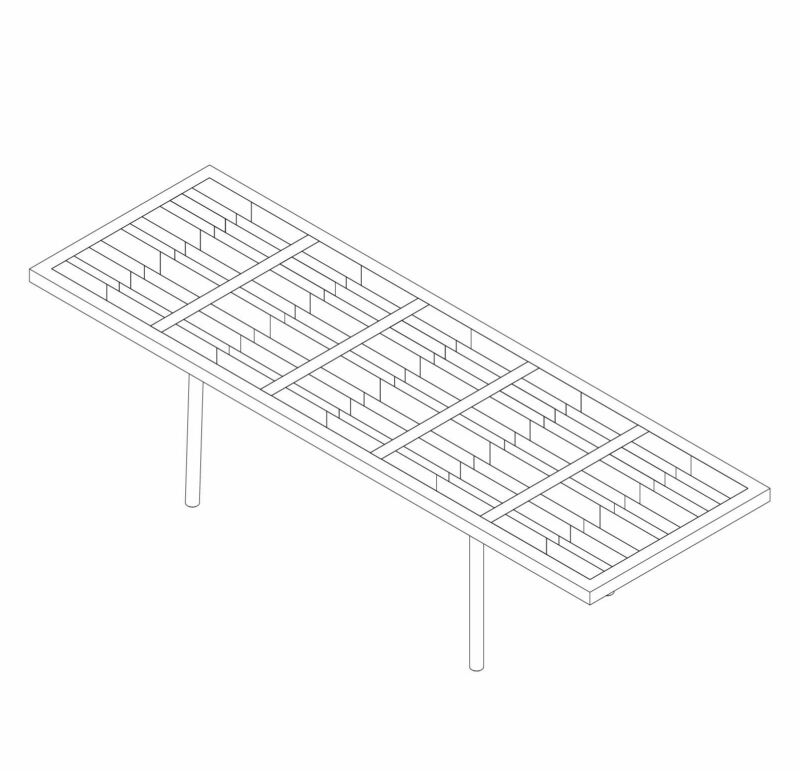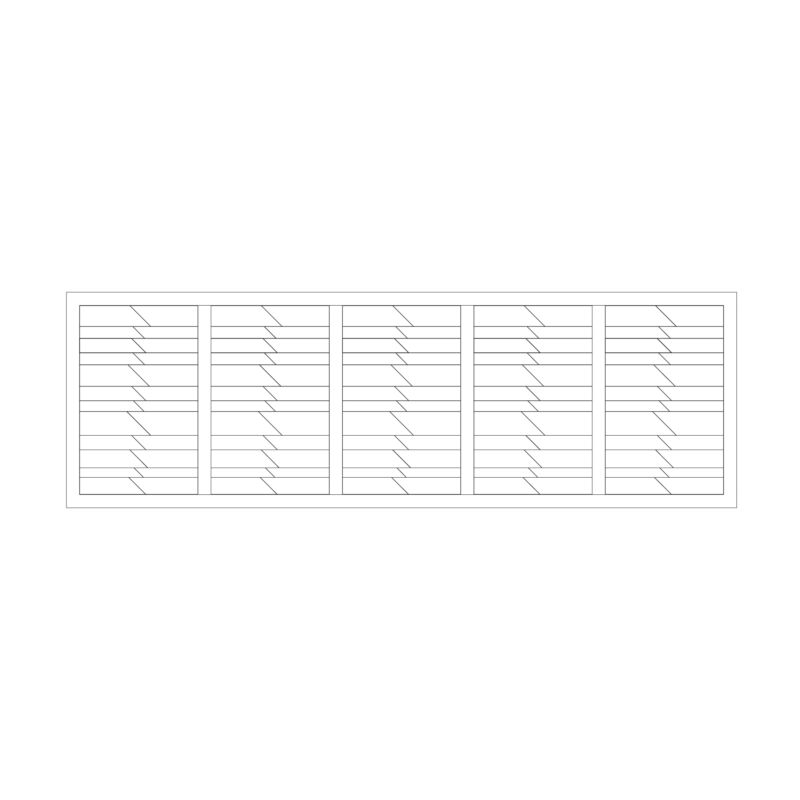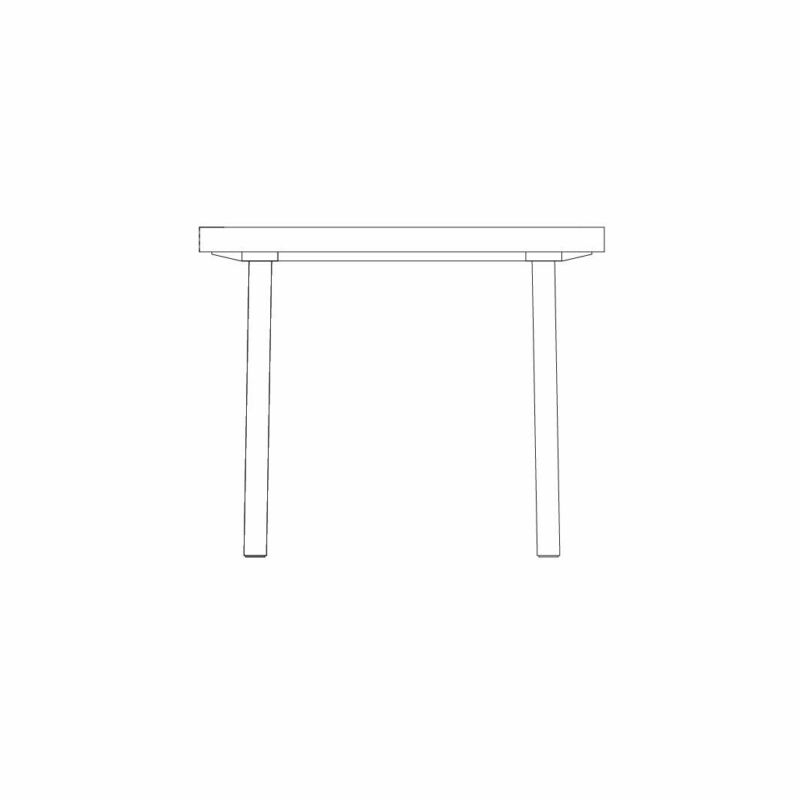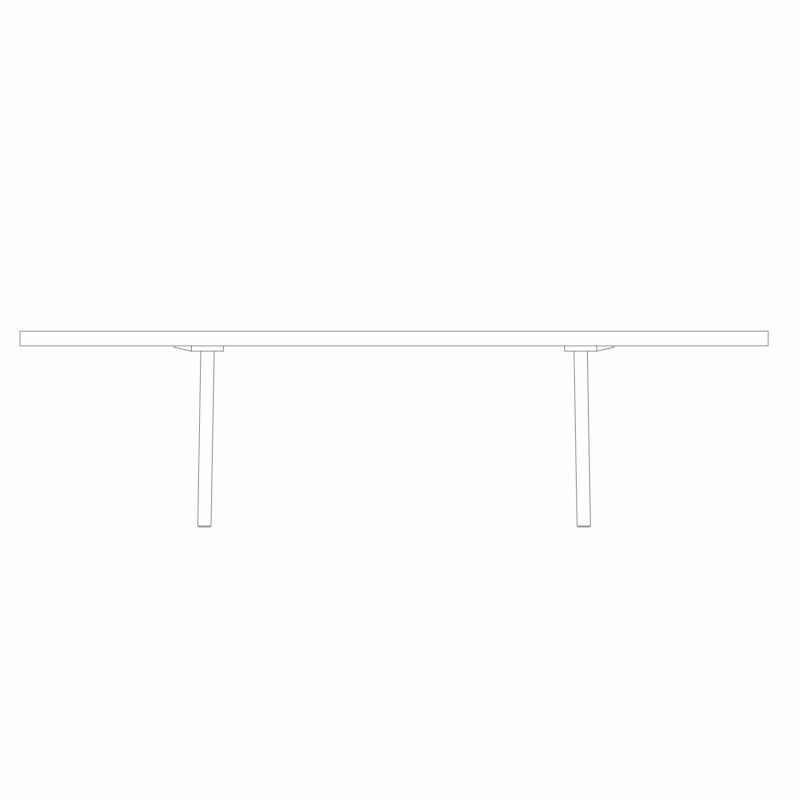 Product Options
We offer this product in a choice of Natural Teak. For Natural Teak finish, the wood is sanded to smoothness and transparent wood polish and sealer are applied with a soft cloth to bring out the natural golden brown colour of teak. Please note, each batch of teak is unique and actual shade may vary a little from the reference image.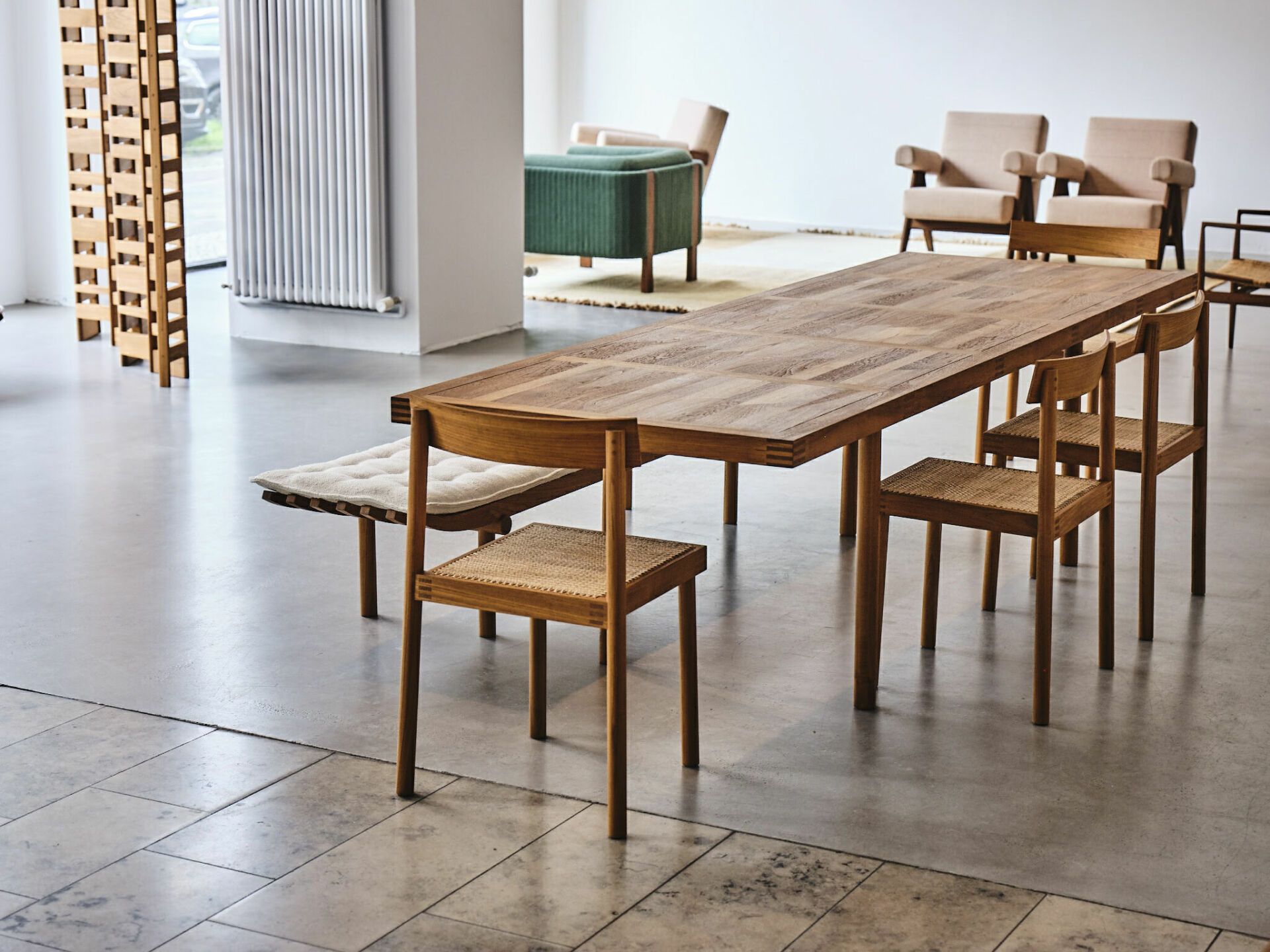 Image : Nandi Dining Table and Chairs at the ANDREAS MURKUDIS gallery in Berlin, photographed by Markus Jans.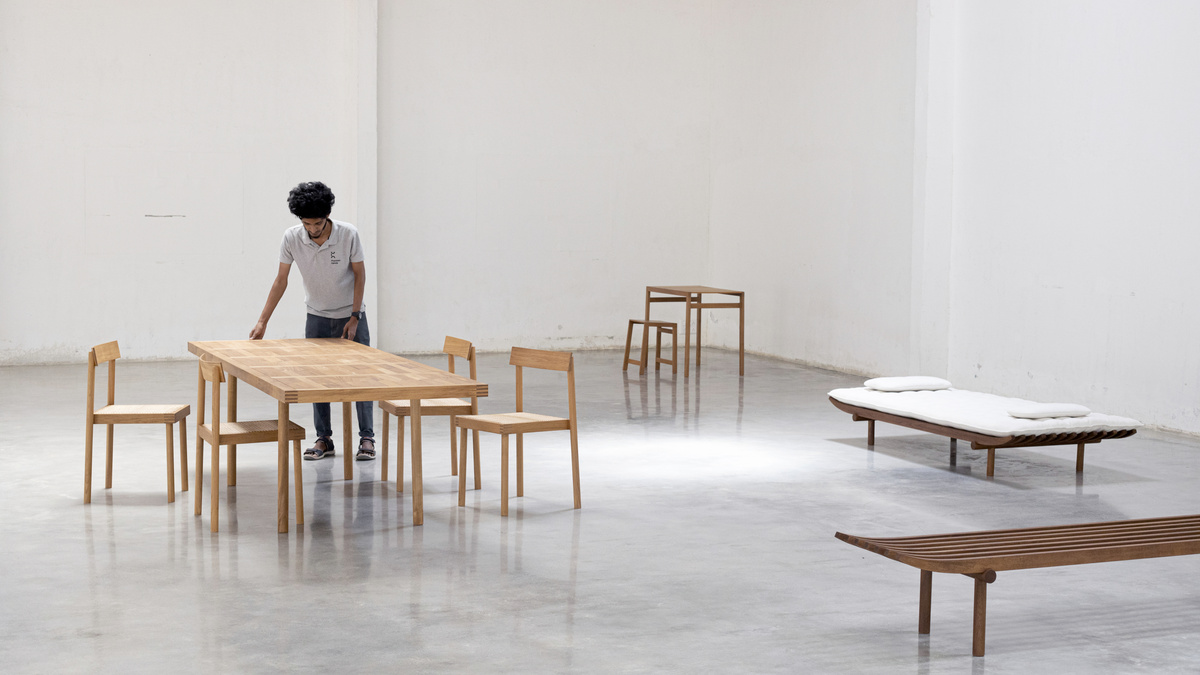 The Nandi Collection: A View Through the Maker's Looking Glass
Designer Klemens Grund believes that furniture anchors us to the world and shapes our daily lives. It creates a feeling of home and provides us with the tools to make new routines. The Nandi Collection designed by him consists of five such solid anchors. He speaks to Parni Ray about how this collection came together and discusses the ideas fueling each piece

Read Journal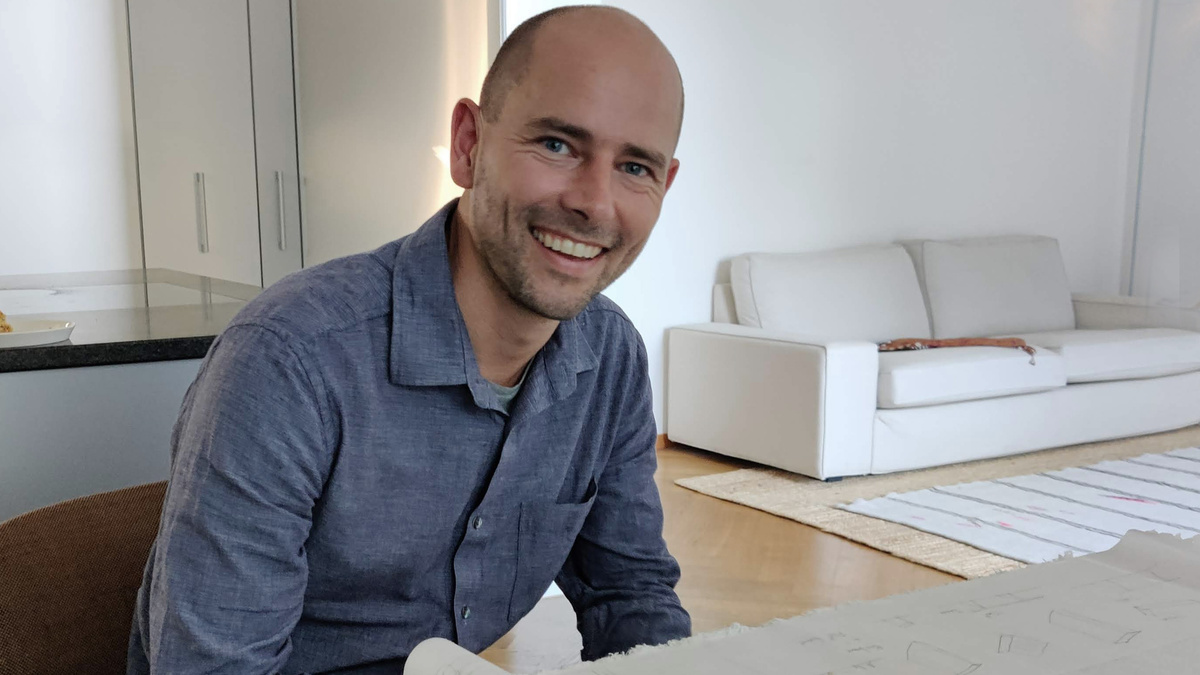 Discover The Magic In The Mundane With Designer Klemens Grund 
"Everyday objects are the soundtrack in the film of our life story." reads German master craftsman Klemens Grund's website. Be it inspiration for his creations or his process, Grund relies on the 'everyday'. He has composed a work vocabulary—a soundtrack of making, if you will—that is unique to his craft and process. He gives Parni Ray a glimpse of his routine and shares pictures of his 'making' adventures over a week.
Read Journal